Higgs 2020 Race Report
Published 14:51 on 27 Aug 2020
37 boats set sail on Sunday to compete in our 70th Anniversary Year Higgs Handicap. This, our oldest race, is for a magnificent silver Cup presented to the Club by our first ever Commodore, Sidney Higgs. It is always a special event and never more so than this year when for much of the season holding any racing was in doubt.
After the winds of over 30 knots on Saturday had led to the event's postponement, the Race Team were relieved to find conditions had calmed down with less than a 10 knot westerly as they rowed out to crew the powerboats at around 1.30pm... although dark clouds were gathering somewhat ominously.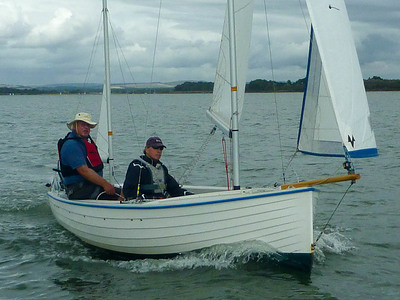 Fortunately the threatened rain never appeared and the race took place in often bright sunshine with the westerly wind building to around 16-20 knots at the finish. Sailors reported some very fast and exhilarating reaches which may explain the dominance of planing boats in the top places (although John Gregory with Keith Russell as crew achieved a very respectable 9th place in the Devon Yawl).

The course took the fleet around a final triangle of Fenner/WW South/Kewell before the Flagpole-Fenner finish line. This provided a real spectacle for viewers at the East Head flagpole (including our former Commodore Warren Tayler) although your Race Team gave themselves the extra challenge of identifying which boats were crossing the line for the final time. Despite the handicap of not planing, it was good to see the 2 Cobles (Wreckless helmed by Anita Russell and Pearl helmed by David Melville) fighting it out to the last with Anita just a foot in front of David at the finish. And the RO was relieved to note that the first boat's finishing time was within a minute of the duration assumed in his pre-race handicap calculation.
Many congratulations to Tom Walker for finishing in 1st place in a borrowed Laser Radial. Tom has now equalled Chris Benham's record by winning the race 4 times (ignoring what would have been a 5th win last year when he sailed as a non-member "guest"). Tom's first win dates back to 2002 when he was just 12 years old! Tom went on to become one of the first junior instructors at WWSC and is now a professional coach employed by RYA for our top racing crews.
A list of all the winners since 1959 is provided at the end which you will see contains quite a few familiar names.
Tom got off to a fantastic start by exploiting the Port bias on the line (just as he had explained we should do in his Regatta Week Zoom coaching session). Commodore Ivan Western copied this tactic when it came to the Standard Laser's start and this saw him lead the other Lasers on the first beat to Fenner, eventually finishing 10th.

Tom was followed closely by Jolyon Western who was 2nd in a Laser 4.7. Jolyon was also, appropriately, celebrating his 70th anniversary having been born the year the Club was founded. Jolyon sailed a flawless race (i.e. not stopping just before the finish line as he did in his last Pursuit Race!) and beating son Alfred who was 4th in another Laser 4.7.
In between Jolyon and Alfred in 3rd place came Ed Martin (last year's winner) in his beautiful Contender, with Finn & Kai Western (4000) in 5th, and Guy Russell in 6th, the first of the Laser Standards. The Contender and 4000 had each made up a starting handicap of (respectively) 14 and 16 minutes on the Laser 4.7s - quite impressive in a race that took them well under an hour to complete.
A mention must also be given to the last-minute entry in a Club Zest from Ed Hickman crewed by his children Helena (9) and Charles (5) who received a special "Family entry" prize for demonstrating what makes the annual Higgs such a special event for our Club. To see all the results click here.
So thanks to everyone who made Higgs 2020 such fun and in particular to the Race Team: Jeremy & Nancy Western with Anne Rutherford (Race Officers); Jeremy & Roz Haynes, David & Clare Benda, and Howard & Katherine Cook in the 3 Safety Boats; and John Coyle supervising the Hard as Beachmaster.
Hope to see you out again soon and do watch out for news of more racing opportunities over the remainder of the season.
Complete List of Higgs Winners since 1959
| | | |
| --- | --- | --- |
| Year | Boat | Helm |
| 1959 | Scorpion | Ian Worley |
| 1960 | Alacrity | Michael Taylor |
| 1961 | Pobble | Ann Worley |
| 1962 | Kismet | Jeremy Leathers |
| 1963 | Alacrity | Richard Taylor |
| 1964 | Shelduck | John Goodman |
| 1965 | Hebe | John Jefferson |
| 1966 | Reveller | Judith Whiteman |
| 1967 | Spiraval | John Gammon |
| 1968 | Picon Too | Anthony Lawton |
| 1969 | Winsom | Stuart Roy |
| 1970 | Sleekit | Jeremy Western |
| 1971 | Chitty BB | Bill Gregory |
| 1972 | Pimento | David Foster |
| 1973 | Prawn | Chris Benham |
| 1974 | Chitty BB | Bill Gregory |
| 1975 | Spindrift | Chris Benham |
| 1976 | Chitty BB | P Gregory |
| 1977 | Look no Strings | Chris Benham |
| 1978 | Hangups | Nick Peters |
| 1979 | Melbourne Muddy | Nick Benham |
| 1980 | Jay Gee | Jonny Ambrose |
| 1981 | 470 | David Foster |
| 1982 | Melbourne Muddy | Nick Benham |
| 1983 | Sleekit | Jeremy Western |
| 1984 | Soleo | Nick Morris |
| 1985 | Jay Gee | Jonny Ambrose |
| 1986 | Laser | Simon Foster |
| 1987 | Humdrum | Andrew Drysdale |
| 1988 | Soleo | Nick Morris |
| 1989 | Electric Eel | Guy Russell |
| 1990 | Mij | Michael Pitt |
| 1991 | Humdrum | Andrew Drysdale |
| 1992 | Splashing Out | Keith Martin |
| 1993 | Splashing Out | Keith Martin |
| 1994 | Carte Blanche | H Martin |
| 1995 | Topper | Peter McKerchar |
| 1996 | Kind Dog | John Gregory |
| 1997 | Lola | RJA Brown |
| 1998 | Caramba | Robin Smith |
| 1999 | Kind Dog | John Gregory |
| 2000 | FD363 | Keith Martin |
| 2001 | Araminta | Eddy Martin |
| 2002 | Atomato | Tom Walker |
| 2003 | Three | Keith Woods |
| 2004 | Swim | Olly Woods |
| 2005 | Araminta | Eddy Martin |
| 2006 | Lightning | Peter McKerchar |
| 2007 | FD363 | Keith Martin |
| 2008 | Madge | Jeremy Western |
| 2009 | Baladaw | Will Ellsworth-Jones |
| 2010 | Baladaw | Will Ellsworth-Jones |
| 2011 | Electric Eel | Guy Russell |
| 2012 | 2000 | Chris Benham |
| 2013 | Fulmar | Harri Goldsmith |
| 2014 | Nellie | Ann Carnegie |
| 2015 | Supernova | Tom Walker |
| 2016 | RS600 | Tom Walker |
| 2017 | Laser | Will Becker |
| 2018 | Ruby | Jolyon Western |
| 2019 | Courageous | Ed Martin |
| 2020 | Flying Ferret | Tom Walker |
Last updated 11:12 on 17 August 2021