2019 Members' Survey goes "live"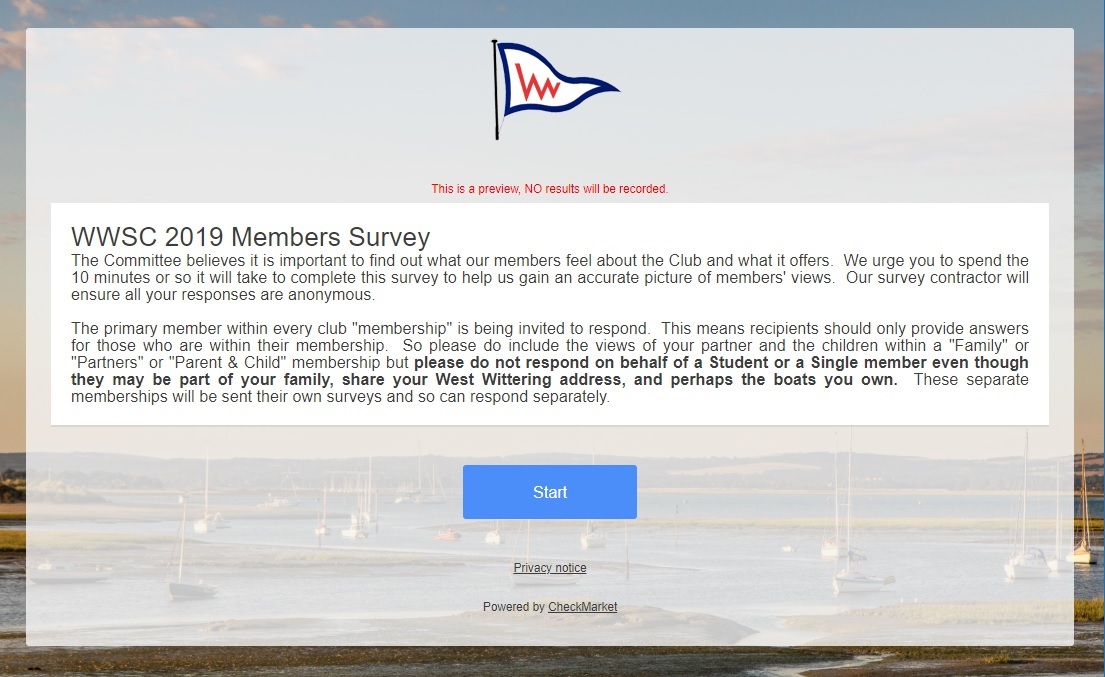 Published 11:37 on 13 Nov 2019
Response so far!!
We all get tired of being asked to fill in surveys almost every time we do anything. But this one is different. It's your chance to tell the Committee what you think of our Club - what you like, what in your view could be done to make it better, and how you hope to use our club in the future. (NB The images on this page show what the 2019 survey looks like - they are not your route into the survey!)

All "primary" members should have received an invitation by email sent to them by our contractor Checkmarket on behalf of WWSC. The primary member is the person within each membership who pays for it and is the Club's main contact point. If you are the primary member and have not received your invitation, first check your spam or junk mail folder. Look for a message from Checkmarket (to maintain anonymity, it isn't being sent out direct from the Club). If you still can't find it, please email the Club Secretary.
The primary member responding is asked to give us the views of all within their own membership. That means your partner and children below 18 if you have a Family, Parent & Child, or Partners membership. We ask you not to respond on behalf of your children over 18 who have a student membership as they will get their own survey.
The survey will remain open for 14 days and in tests we've found on average it takes around 10 minutes to complete. While you are completing it, you can click backward to check previous answers but you can only move forward when you have fully answered the current question. Although we recommend you complete it in one go, there is also a small "pause" button at the bottom of each page - this will give you a unique "URL" (a web page reference or "link") which you should save on your device. When you load this into your web browser, you will be taken back to the page where you left off.
After you submit your response, you will get a "thank you" email and will have the opportunity to review all your responses (but not change them). You will not be able to re-take the survey either.
The survey is anonymous. Your responses go to our contractor who then makes them available to the Club without any identifying information. The email invitation and any reminders will also come from Checkmarket not WWSC. Checkmarket is a reputable, GDPR compliant survey contractor that works for governments, public bodies, etc.
Your new committee will make available a summary of the messages received back through the survey once it has had time to assimilate them.
Last updated 06:32 on 27 April 2020